You would not believe what this weather does to me. It's chilly, dreary, rainy. It feels like we haven't seen the sun in weeks and we may never see it again (I realize how ridiculous this sounds but *shrugs*).
We have the remnants of a hurricane coming up the southeast, combining with a cold front and winter storm lollygagging across from the west. It really brings out the "meh" in me.
I also found out my son's preschool will be closed for at least the next week because of Covid.
It all makes me want to put on comfy clothes and curl up on the couch with a book and a throw blanket.
But, of course, with two crazy boys at home, and freelance work to keep up with, that's not really an option. Well, the curling up on the couch part anyway…
Since I'm feeling so incredibly unmotivated I will probably take advantage of one of these meals I pre-made a few weeks ago, packaged up and stuck in the freezer. They're perfect for days like today, because they're warm and comforting, and best of all, they're DONE. All I have to do defrost and bake. In some cases I can even skip the defrost.
A few of these are recipes I just prepared and froze. Others are meals I made for dinner one night, and just doubled or tripled the recipe and froze the extras for another time.
Enchiladas – From Damn Delicious

Mexican is hands-down my favorite cuisine, and I love enchiladas because they can be so versatile – chicken, beef, pork, cheese – and I almost always have the ingredients on hand to make them. They're also pretty easy to assemble in a hurry, and simple to make multiples of.
You can play with the basic recipe by using your choice of protein. This recipe calls for leftover rotisserie chicken but you could also use leftover taco meat, leftover pot roast, shredded and seasoned, or just beans and cheese. You can also swap out the flour tortillas for corn, although in my experience you've got to warm them just so before you try to roll them or they will crack and break. They still taste good but you wind up with more like an enchilada casserole.
Cilantro Lime Chicken – From Smart School House
Cilantro: You either love it, or you hate it. Fortunately for me, my husband is a fan. (Jury's still out on my boys though…)
This recipe is short on ingredients but long on flavor, and it's another really easy, ahem, dump & go, slow-cooker meal. I think I'm going to have to come up with a better way to describe them.
If you like it a little spicy, you could add a can of diced green chiles to the Crock Pot, or for a creamier dish, add some sour cream or cream cheese.
Ranch Pork Chops – From Food, Fam, Crafts, Fun

I kind of hate the term "dump & go" to describe these prep-ahead slow-cooker meals, but I do really dig the concept. A couple of minutes spent chopping, dicing, and measuring ingredients, and you've got a freezer bag recipe you can just pour into your slow cooker for a no-effort dinner one day in the future.
This recipe takes slightly more planning in that it should be thawed before you put it in the slow cooker, so take it out the night before and defrost it in the freezer.
Beef Stew – From Live Simply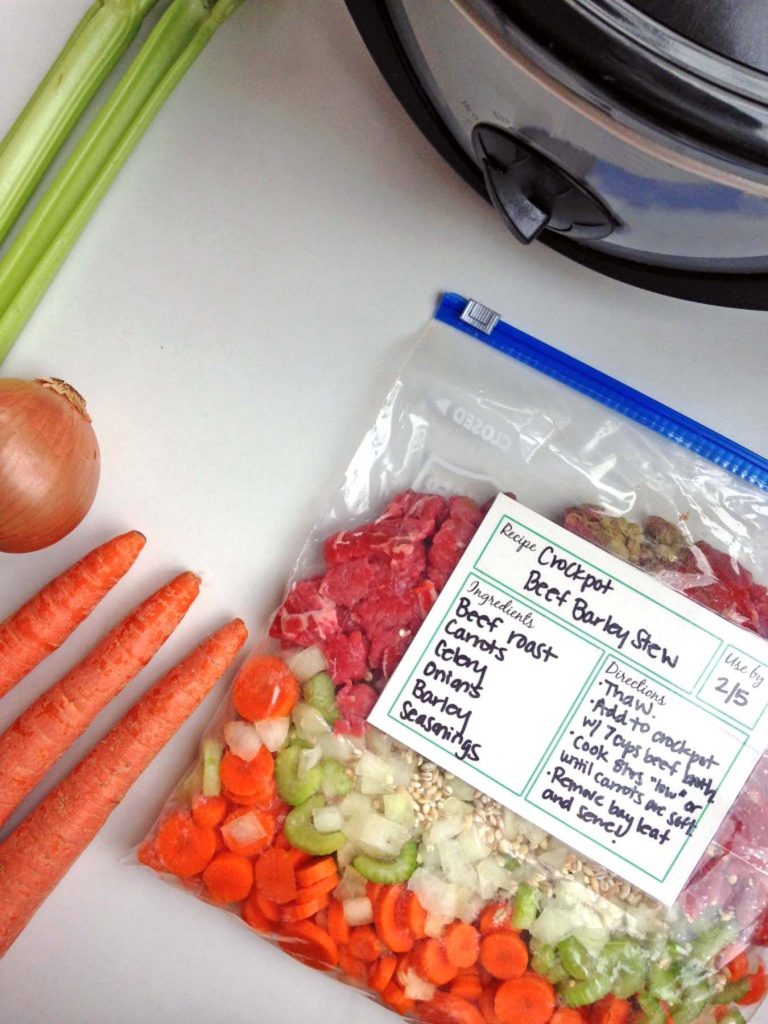 The only drawback with this recipe is that there are no potatoes. Potatoes don't freeze well raw or cooked, so when preparing freezer meals, it's just best to leave them out. This recipe uses barley instead, and it's so hearty you'll barely miss the potatoes. You could also add some dried beans when you throw it in the slow cooker.
I also used a little less broth than she called for in the recipe – 7 cups of liquid seemed like a lot, and we like a thicker stew – and seasoned it to taste with salt, pepper, garlic and a few herbs.
BONUS: Pot Pie or Shepherd's pie
Okay, this one isn't technically a freezer meal, but if you have beef stew from the last freezer meal recipe, you can quickly and easily turn it into another meal. Pour your leftover beef stew in a casserole dish or pie plate, and roll out a prepared pie crust or phyllo dough sheets over top. Trim and crimp the edges, then brush with an egg wash and bake according to the pie crust directions.
Another way to glorify beef stew leftovers is to turn it into shepherd's pie.
Just like you did for the pot pie, spoon the leftover beef stew into a pie or casserole dish. You can stir in a dash of Worcestershire sauce and a splash of red wine if you like. Instead of pie crust, this time we're going to top it off with buttery mashed potatoes, then bake at 350*F for about 20-25 minutes or until golden brown.
Ravioli Lasagna – From Spaceships & Laser Beams


I made this one a few weeks ago as part of my Quick and Easy Weeknight Dinners Your Family Will Love post. It took me about five minutes to assemble, and I had plenty of ingredients left so I pulled out another casserole dish and made one to freeze.
I froze the extra before cooking, and I covered it with tinfoil and a Pyrex lid. When I go to cook it, I will replace the tinfoil with a fresh piece of foil – for some reason tinfoil sometimes gets weird when you cover something cheesy in the freezer and then bake it from frozen.
Did you try one of these freezer meals? Do you have a go-to, tried-and-true freezer meal recipe? Please share your thoughts in the comments!