Even though the coronavirus pandemic is still raging, and we are trying hard to be safe and stay healthy, we are also trying to get back some of our previous normalcy. That means fall sports. Unfortunately it also means stressing over whipping up and wolfing down dinner – fast.
Twice a week my 8-year-old has a socially distanced outdoor workout for wrestling (since they can't actually practice wrestling), which ends 45 minutes before we need to get him to his two-hour football practice, and I have to make dinner, get it eaten, and get him ready for practice in that amount of time. I resort to frozen pizza and buttered noodles a shameful number of times. And then my son comes home from football ravenous at 8:30 p.m., when I have to cook "second dinner."
Weekday dinners have become a major source of anxiety and argument in our house, so I set out to come up with a good list of meal ideas I can put together in a pinch. I brought a notebook and pen to football practice one night, and while the kids ran drills and plays on the field, I perused Pinterest and saved a bunch of recipes that checked all my boxes.
Our freezer and pantry is always well stocked, but my kids are picky. I'm pretty picky myself. So it's not a matter of just choosing a recipe and grabbing the ingredients. I have to ask myself, would I eat this? Would my kids? Would my husband? Can I make it fast? Can we eat it fast?
So here's what I've come up with. If you try any of these recipes please come back and post a comment to let me know how it turned out!
Cheeseburger Tater Tot Casserole – from The Gingham Apron

Five ingredients. Burgers & Fries in one dish. Need I say more?
Lasagna (made with frozen ravioli or tortellini) – from Spaceships and Laserbeams
This lasagna can do double duty, because it's just as easy to make two pans as it is to make one, and the recipe freezes well so with 20 minutes of prep time you can bang two (or more!) dinners out. You could also use frozen tortellini for this recipe, it would just end up being more of a casserole than a lasagna.
Beef & Broccoli Ramen – from Chef Savvy

I haven't tried this one yet – I'm waiting on some fresh broccoli from my next Misfits Market box. But my family loves ramen noodles (we call it spegwi in our house) and steak, so I figure this one will be a slam dunk.
Ham and Cheddar Crescent Rollups – from Pillsbury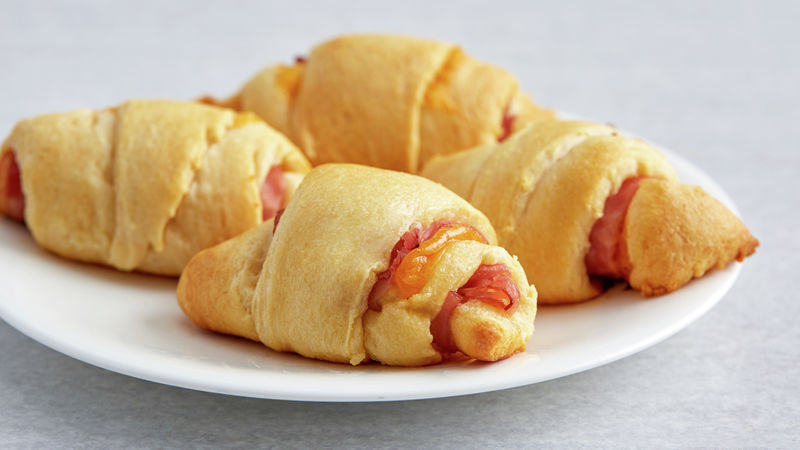 My crew doesn't really do ham so when I make this I'll substitute hot dogs, which I think will be just as good! This one is three ingredients, 10 minutes of prep time, and ready in less than half an hour. They can also be prepared ahead of time and then baked later, so they'll be perfect for those nights when we're running from one practice to the next.
Chicken Parmesan Bake – from Happy Go Lucky Blog
Chicken parm is one of my favorites, and it's relatively easy but not very quick. This recipe puts a dump-and-go spin on chicken parm – to the tune of just FIVE MINUTES of prep time! Throw everything in a casserole dish, cover with foil and bake. No breading chicken, pan frying, etc.
Green Chile & Chicken Enchilada Soup – from Scattered Thoughts of a Crafty Mom
I made this last night with some shredded chicken I had in the freezer, and it was so simple and so good! I added some white hominy I had in the cabinet to give it a little more texture, and I used green tomatillo salsa in place of green enchilada sauce, which I didn't have. And I sprinkled some broken up hint of lime tortilla chips over top. I loved it!
Mississippi Pot Roast – from The Country Cook

I remember the first time I read a post about Mississippi pot roast. The blogger said her husband loved it so much he asked her to make it again the same week. My husband never likes to have the same thing too often so I thought she had to be taking a bit of literary license. But then I made it and OH MY GOD. Every time I make it, it blows people's minds, and then I blow their minds again when I tell them how simple and easy it is.
"Maximum output for minimum input," is how I describe Mississippi pot roast. And as if it weren't already so amazingly wonderful as it is, this recipe is super versatile. You can make it with pork chops, pork roast, chicken breast, cube steak, etc. I've yet to find a protein that this didn't work for!
Coming up: My next post will hopefully be similarly inspiring – family friendly freezer meal ideas.