I came across this idea on Pinterest, and, as an admitted cheapskate who loves canvas prints, I decided give it a try. It truly is as simple as it seems, for a change. You need almost no craftiness or skill for this project.
You will need:
Blank canvas (stretched, not panel)
Black acrylic paint
Paint brush
Mod podge (or 50/50 mix of school glue and water)
Photo
Scissors or paper cutter
Sanding block or sand paper
I took my photos to Staples and had them printed on cardstock. I liked the black and white look, but the quality of the photos printed on their black and white printer was lousy, so I converted my files to black and white and had Staples print them on their color printer. They still only charged me 20 cents per copy, but at 50 cents, the price for color wouldn't have been unreasonable. Their cardstock was 8.5 x 11, so I had to be clear that the printed photo had to be at least 8 x 10 (or it would not have filled out the canvas).
Note: Don't use a photo printed on regular copy paper. The modpodge will warp and bubble the paper and you'll have a harder time smoothing out (and keeping smooth) the image. You can use a photo on photo paper, although it's hard to dull the glossy finish to maintain the real look of a canvas print, and the edges aren't as easy to rough up with the sanding block. If you already have a print made on photo paper, go ahead and use it, but if you want the best results, I really recommend using a photo printed on mid-weight cardstock.
I brought my prints home, and cut off the white, unprinted border area. I used a paper cutter, but you don't have to be super precise, because you're going to sand the edges down later anyhow.
Then I painted the sides of my canvases with black acrylic craft paint, making sure to extend slightly over to the front and back of the canvas so that when the canvas hangs on the wall, no white peeks through. You don't have to be careful, and this doesn't have to be pretty. Don't worry about straight lines or clean edges, just worry about even coverage.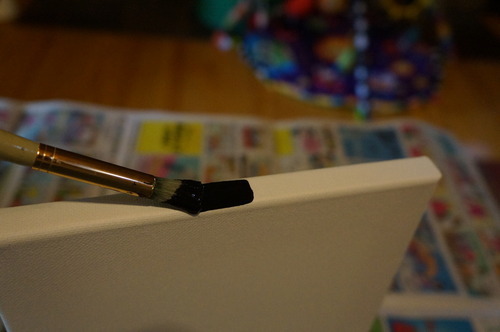 Once the paint dried, I used a foam paintbrush to thinly spread mod podge on the canvas. Then I carefully laid down the print and smoothed out any wrinkles and air bubbles.
Next, I put the canvas, print-side down, and stacked some heavy books on top, so the print wouldn't wrinkle or curl as the mod podge dried. It doesn't take long to dry, maybe half an hour.
Finally, I took a sanding sponge and just lightly buffed away any overlapping paper. If there is a lot of overlap, you might want to take a razor blade or exacto knife and cut it away first, because getting too aggressive with the sandpaper can rub off some of the paint on the side of the canvas. Again, you don't need to be perfect or exact here, because people will stand back to admire your canvases. They're not going to get up close and examine every detail (unless they love the project so much they want to know how you did it!).
These are really light, so I hung them on the wall with 3M Command Strips. I got a 12 pack of the poster strips for around $4. And my husband was happy because I didn't put any holes in the walls.
Find a good deal on a bulk pack of canvas if you plan to make more than one. This 10-pack is $16.50, so assuming you have some of the other supplies at home and your expenses are for the canvas and the prints, each finished canvas should set you back less than $2!
Disclaimer: This post may contain affiliate links.